A BRIEF HISTORY OF THE STAMMTISCH RIDE
In the spring of 2012, using a combination of promotional thinking and a burning desire to share his love of riding road bikes "off-road" in the magical hills of Marin and Sonoma county – full rolling mixed cross-country rides that start and end in the city, but can usually be completed in a few hours – Aaron Hulme, with the encouragement of his cycling friends, invented the Stammtisch Ride. The English translation of Stammtisch is "Regular's Table;" something that is found in every neighborhood Bavarian Beerhall, tavern and beer garden. It's a little piece of the establishment always left free to accomodate locals, special guests, friends and V.I.P.s. However ... putting Bier aside in this case, the Ride part of the Stammtisch is really the jam.
Aaron and his brother Matt grew up in SF. Hiking and exploring the natural world with Mrs. Terwilliger, then bike riding in the same hills and valleys with their uncle Ed (former Marin County Superintendent of Parks), learning the secrets of the lesser known fire roads, nooks and crannies of the coast's protected park lands. This gravel and vista filled wonderland also happens to be, as everyone already knows, where the modern concept of what we know as the mountain bike was fun-ridden into existence. Oh yes. The Stammtisch "promo" concept was always going to be a little uncomfortable for first time riders with only road experience – nine years ago (hard to believe now) this was basically unthinkable to properly outfitted cyclists, however chic their attire. Today, this kind of riding is all over the scene for everyone ... and that's because it is fundamentally Amazing to challenge your equipment and to open your mind on a bicycle. Our particular neck of the woods just happens to have perhaps the best climate, access, and terrain anywhere. Riding this place at golden hour – [as the sun peeks from below the clouds, in low, slowly shifting, golden light] – will always improve your bike handling skills. In a thrilling and beautiful way.
"Biers after. Plenty of secure parking for your machine."
"Remember, beginning or ending a ride in the dark will always expand your reservoir of courage."
ADDITIONAL:
The Stammtisch Moth mascot (referred to at the time as the "Radbüro Hummingbird Hawk-moth") was created as a stencil in 2010 by Matt for Aaron to use during Rapha's first Festive 500 as a clandstine ride marker meant to identify the sweetest sections of road, an interesting turning, secret trail, good coffeeshop or hidden views – as well as exist as a physical record of the Rapha challenge, among other things.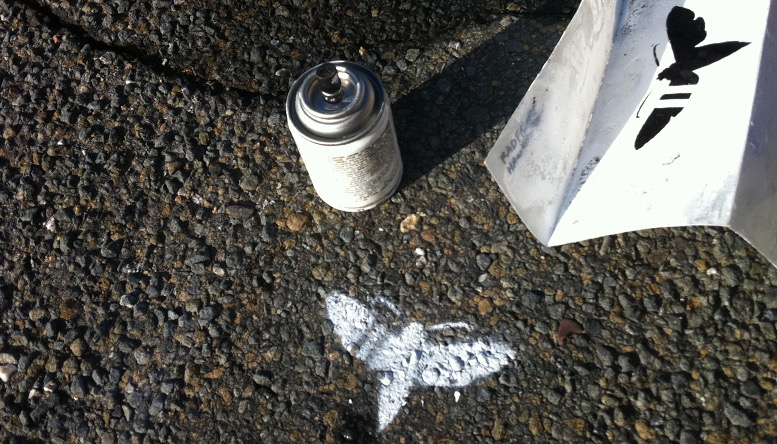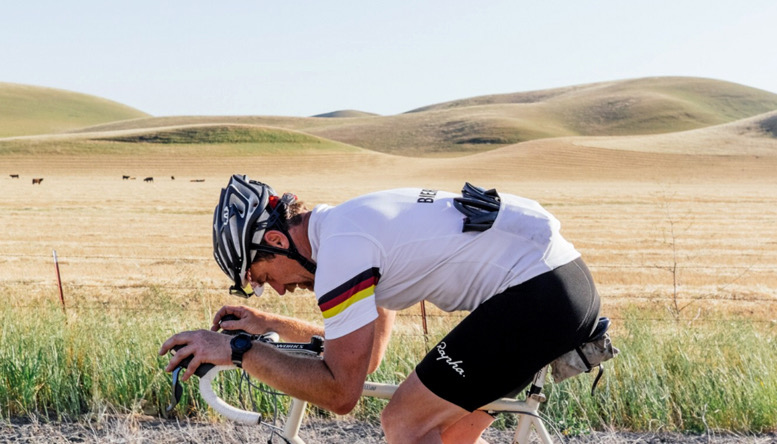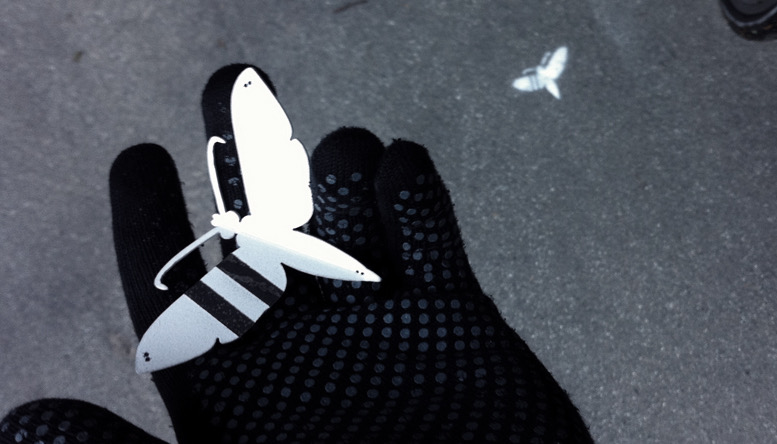 .
.
DISPATCH:
RECONNAISSANCE BUREAU
BACK